Bangriposi: Know Everything and Best Place to Stay Here
Stay within the nature, witness the rustic hospitality in an earthen home away from home | Nomadic Weekends
Bangriposi: Explore the Magic of Nature
Do you ever feel that walking through nature will guide your soul back home? Well, most nature-lovers like you would be able to relate to this feeling. So, here we are to help you find a new destination amidst nature and pure oxygen for your next short trip- Bangriposi, Odisha.
Why Bangriposi?
Bangriposi, in Odisha, is a secluded tribal village situated right at the feet of the Thakurani Hills in Mayurbhanj. The rustic and earthy essence of the place will leave you spell-bound. This quaint and unexplored hamlet is just 228kms from Kolkata and will bring you closer to nature's heart. Its unique beauty lies in its location. It is nestled like a child amidst the phenomenally beautiful hills of Vidyabhandar, Pathrakusi and Buraburi.
Bangriposi, in the Mayurbhanj district of Odisha, is not only known for the panoramic hill view but will be a treat to your eyes- the picturesque landscape of the river Buribalam.
And to top it all, the worldwide famous Simlipal Tiger Reserve is just 60kms away! Yes! We are not joking! Bangriposi is embellished not only with its natural beauty but also with its local tribal people and their brilliant artistic handwork in Dokhra Filigree which will surely take your breath away!
Visit Bangriposi and you'll know that we are not exaggerating even a little.
How To Reach Bangriposi:
Rail: The Dhauli Express leaving from Howrah at 6 in the morning will take you to Balasore, which is approximately a distance of 231kms, taking up travel time of 3.5 hours. From Balasore, you need to take the DEMU passenger train leaving at 10.05 am. The DEMU passenger train is the only rail that connects directly to Bangriposi from Balasore. It takes up travel time of about 2.5 hours. So, hope to reach your final destination by mid-day.
Bus: You can avail bus services to travel to Bangriposi from Kolkata. Take any bus which goes to Baripada from Dharamatala near the Press Club.
Car: If you are taking your car, then the best route would be taking the NH6 which will take you directly to Bangriposi. The distance from Kolkata to Bangriposi is approximately 228 km and will take a travel time 5.5 hours.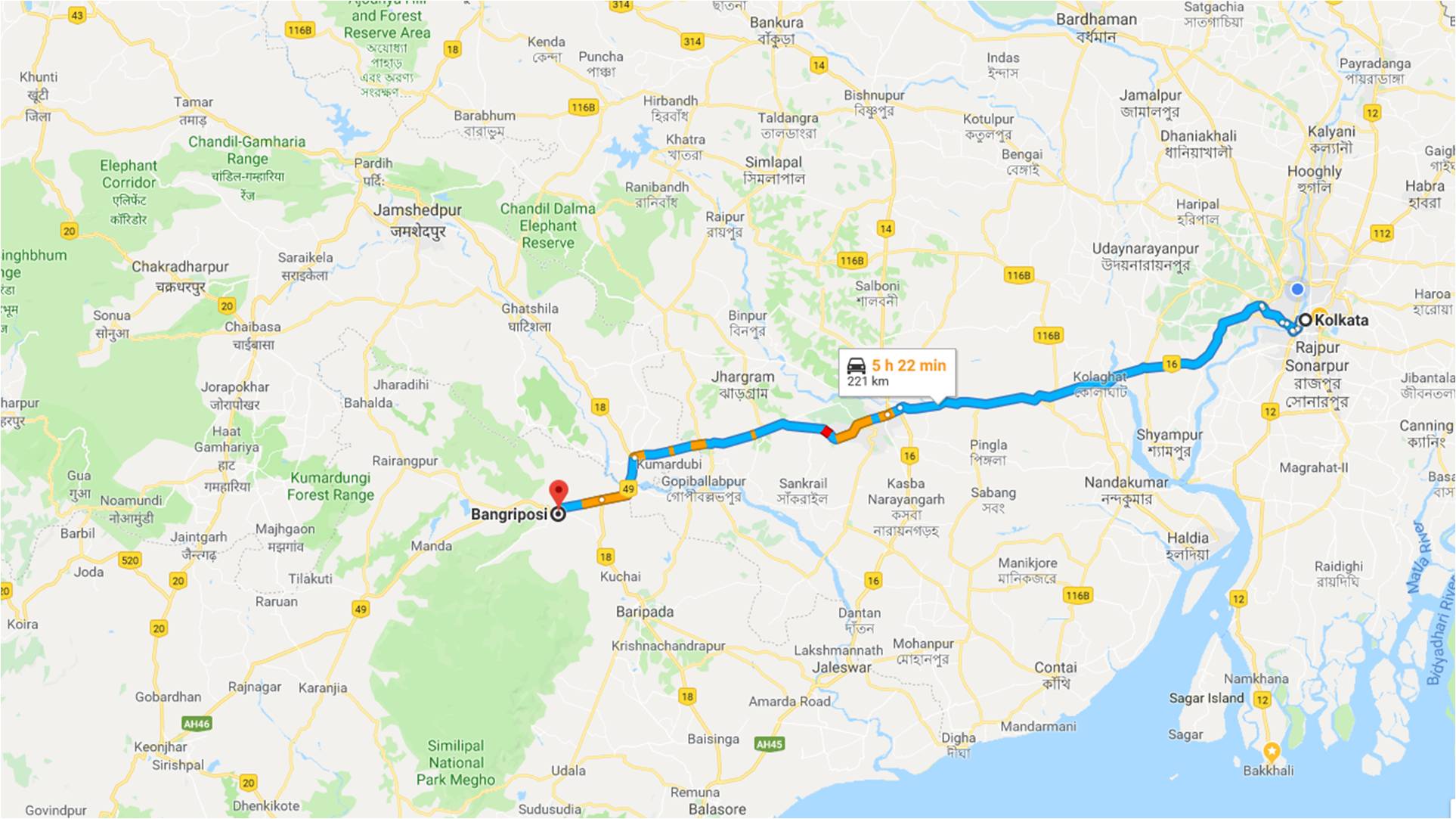 Air: There are no direct flights to Bangriposi. You can take a flight to Bhubaneshwar from Kolkata and then hire a car or taxi and drive down to Bangriposi.
What to See in Bangriposi:
Bangriposi is a paradise for tourists who love nature and loves to visit natural places devoid of blatant commercialization. 
The Barehipani and the Joranda Waterfalls:
Located in the heart of the National Park is the majestic Barehipani waterfall. It is a two-tiered waterfall with a drop of 400 metres and is one of the highest waterfalls in India.
The Joranda waterfalls may not be as majestic as the Barehipani, but it is breathtakingly beautiful too with a drop of about 150 metres.
Lulung:
Lulung is the gateway to Simlipal National Park and is located right next to the Palpala River.
Chahala:
If you are a bird-watcher or a bird-lover, then Chahala should be on top of your itinerary list.
Buribalam River: 
The popularity of this river lies in its history than in its actual existence. This riverbank has witnessed the encounter between the Indian freedom fighter Bagha Jatin Das and the British Commissioner Charles Tegart. Take a stroll on the banks of the river and take in the fresh air- it will leave your soul with calm!
Duarsini Temple:
Also known as the Bonbibi or Kanakdurga Mandir, it is located right in the middle of the Thakurani Hills. Apart from its religious significance, the area around the temple has caught the eyes of many tourists. You will find the best panoramic view of Bangriposi from here.
Kuliana Dokra Village:
If you are an art-lover then this village should be a must visit for you. The local artisans of this village are struggling to keep this particular form of art alive. Visit Kuliana village to encourage the artisans for their intricate artwork!
Bisoi Haat: 
A haat as we know is the local market place in rural areas. Taking place only once a week on Saturdays, the haat will help you get the true essence of village life.
Simlipal Tiger Reserve:
Among all the places that tourists love to visit from Bangriposi, Simlipal Tiger reserve probably is the biggest attraction.
Just 60kms away from Bangriposi is the worldwide famous Simlipal Tiger Reserve. It was initially a sanctuary covering over 2750 sq.km area. Later, it was picked up as a Project Tiger Reserve. This majestic wilderness is home to almost 95 tigers and several other species of Indian wildlife. It is the home to about 230 species of beautiful birds and various kinds of other wild reptiles too.
Best Time to Visit Bangriposi:
The best time to visit Bangriposi would be from the months of October to June. November to February could get quite chilly in the evenings. The rest of the months are quite pleasant. Monsoons might be an inconvenience and during the summers this place can become sultry and humid.
Best Place to Stay in Bangriposi
Even though Bangriposi is gaining popularity among tourists, it is still not very explored. Therefore, there aren't many posh stays in and around this area.
However, we can help you with your stay in an eco-cottage which is known for retaining the essence of the rustic and rural lifestyle. The absence of urban luxuries here will provide your soul with a direct heart-warming connection to village life. The scent of the forest as you stay here will bring you closer to nature and leave you amazed with its abundant beauty.
Accommodation:

 
This eco-property has accommodation of two types of rooms. Cottage and Main Building. The cottage provides a stay for two people with an attached bathroom. Main Building consists of 3 rooms, a dining space with attached bathrooms in every room. Maximum of 8 people can accommodate in the main building.
Outdoor Activities in Bangriposi
Do whatever you need to do to calm your mind and soul- because that is the primary reason for which you are there. Roam around, eat, pray, relax amidst this diversified beauty of nature and bring your mind and soul to peace.
Pocket Pinch:
Cost INR 1250 + 5% GST per day per head including Breakfast, Lunch, Hi-Tea and Dinner
Other interesting places you can visit in Orissa:    Simlipal Nature Camps – Orissa,    Rissia Nature Camp, Kuldiha – Orissa,    Bhitarkanika Nature Camps – Orissa
We're ready to help you with planning your weekend. Enquire Now.
Click here to know 25 such great weekend destinations near Kolkata
In case you love hills, see these great hill stations near Kolkata for an offbeat getaway