Garpanchokot Tent House
Green paradise | Purulia | Nomadic Weekends
Garpanchkot Tent House: Best Resort in Garpanchkot
On the foothills of Panchakot is situated the ruins of Panchkot palace and fort. Its this historical fort bearing the evidence of Bargi attack in Bengal which gives its name the Garpanchakot. Only 5 hours drive from Kolkata, Garpanchkot is enchanting with its lush greenery, hills, lakes and it is great natural and historical attractions. Tent House Resort in Garpanchkot adds modern comfort and luxury to the natural appeal. Unique Swiss cottages make the place, even more, appealing for a weekend stay.
Absolutely beautiful in monsoon and winters Garpanchkot is a must visit from our side. Away from urban hustle bustle yet filled with all urban comfort, this place will certainly make its space in your memory.
Outdoor Activity
Relax in the greenery of nature.
Enjoy the boat ride on the lake formed beside the Pachet Dam.
Take a walk in the forest.
Mingle with the local people to get an essence of their culture, history, and stories.
In the campus, kids can enjoy the play zone.
Garpanchkot Nearby Attractions
The ruined Garh surrounded by a group of temples stand as rich architectural and historical evidence.
Joychandi Pahar in the red soil of Purulia is a paradise of Sal and Palash trees.
Baranti lake, in the Rarh region, is a perfect picnic spot with no one to disturb around.
The Panchet Dam on the Damodar river with its adjoining Panchet reservoir.
Snake Park near the panache dam.
Maithon dam on Barker river with the adjacent Marathon lake is an excellent place especially in spring when the Shimul flower blossoms.
500-year-old Kalyaneswari temple in the bank of Barakar river.
Birinchinath, on the southern slope of Panchet hill, is an old temple that has disappeared now.
Best Time to Visit Garpanchkot
The place is so full of greenery and tranquillity that any time you visit, it's sure to rejuvenate you.  Temperature is moderate throughout the year. In summer maximum temperature is 45 degree Celsius whereas in winter the minimum temperature is 3 degree Celsius. But real beauty comes with the rain! The greenery becomes even greener and the clouds come rolling down the hills to make the place look like a dreamland. Another time nature celebrates in this place, its the spring. Palash, simul blossoms and sprinkle all around to play Holi!
How to Reach Garpanchkot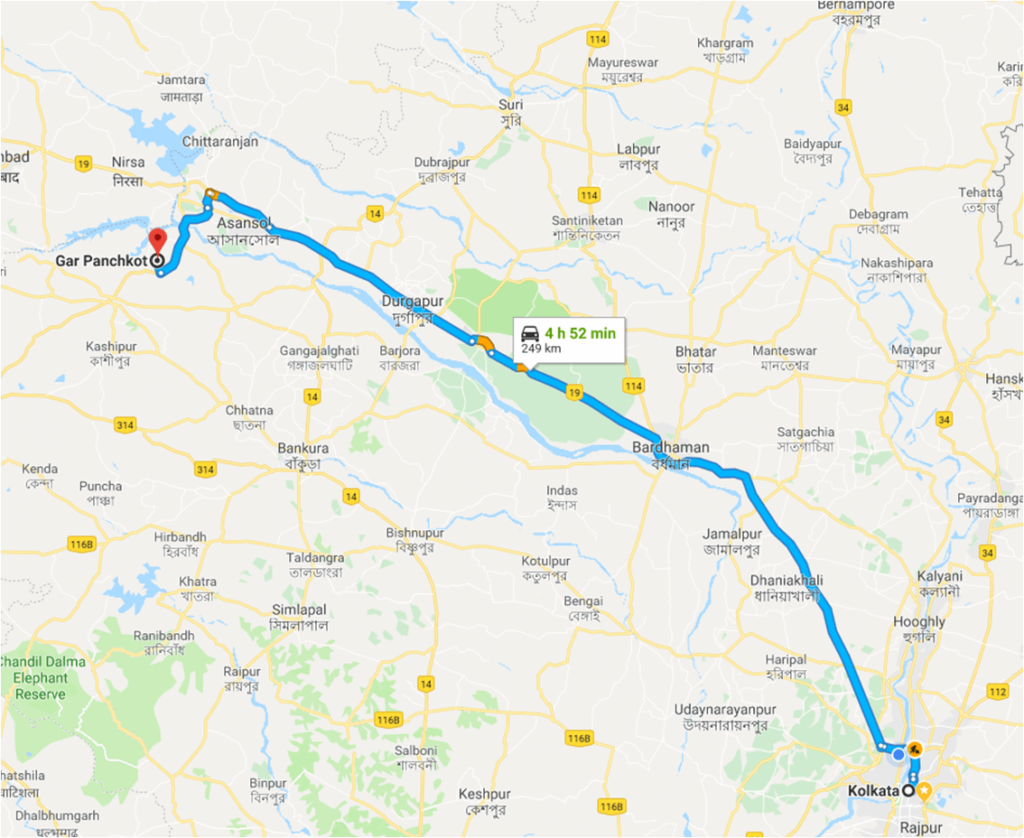 By road: Kolkata to Goronchokot resort will take 4.30min via NH19 or Durgapur Asansol national highway, it's nearly 245kms. A supporting road map can be provided if required.
By Rail: The nearest railway station is Kumardobi which can be reached by Black Diamond. The most accessible station is, however, Asansol from there its one hour ride to the resort.
Pick-up and drop facilities from both the station are available. From Kumardubi it charges nearly 600 rupees and from Asansol, the charge is 1000-1200 depending on micro and minicab.
Pocket Pinch
Double bedded Deluxe tent and room: INR 3500 +12% GST  per day
Suite Room: INR 4000 + 12% GST per day
Four Bedded room and cottage: INR 4500 +12% GST per day
P.S.  GST needs to be paid directly in the resort.
Site seeing cost:
It generally takes 2 trips to cover all the 7 spots.
We recommend the 1st trip to be  Panchet dam, Snake park, Maithon dam, Kalyaneswari temple, and the Garh. This will take you quite some time.
In the next trip, go for just Joychandi hill and Baranti lake and enjoy a nice day out.
The total costing comes to nearly Rs. 3500
We're ready to help you with planning your weekend.    Enquire Now.
Other interesting places you can visit on weekends:    Shyamsundarpur River View Retreat,    Tajpur Eco Resort,    Chandpur Village Resort,    Tajpur Village Hut
Click here to know 25 such great weekend destinations near Kolkata 
In case you love hills, see these great hill stations near Kolkata for an offbeat getaway